Artists Reception - September 28th 6 to 8PM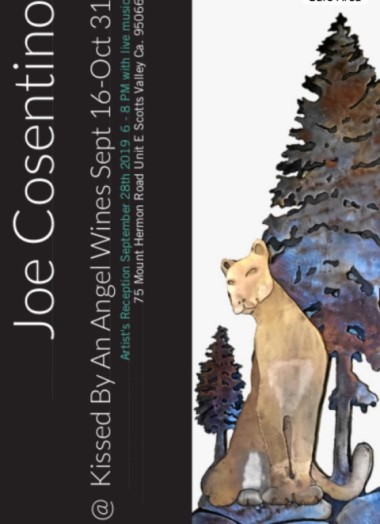 ---
My artwork explores the lines and shapes that make up the diverse state of California. From the depths of Mariana's Trench to the tops of old growth Redwood forests, my work follows the flora and fauna of our state's timber industry and fisheries. I am inspired by watching ravens at play on old logging equipment or witnessing a pod of Blue Whales rolling at sea. I seek out these scenes in nature and develop them in a flattened form, focusing on their essential shape.
I am a graduate of San Jose State University with a Bachelor's degree in Studio Art. I studied under, and owe much thanks to Patrick Surgalski and David Middlebrook. While in school, I worked as a tree climber throughout the Santa Cruz Mountains. I found myself at the top of giant redwoods studying the world from an artist's perspective. I would reflect on the works of Richard Diebenkorn, and Alexander Calder, as I observed the horizon lines of land and ocean become lost and found in the fog. There is a Chinese Proverb, "Before you paint a tree, see how it grows." I may have taken these words too literally.
Currently, I am a working artist in Felton CA. My focus is in developing works that display the subtle and dramatic scenes that I have found in my adventures. In future works I plan to focus on the relationships between how we have changed the landscape and ocean in our search of timber and fish and how these pursuits have shaped the tools we needed.